Joe's "HomeSweetHome" Page
Welcome!
I'm glad you found your way here
and I hope you find something of interest during your visit.
In addition to telling you a bit about myself, I am also listing lots o'links to some of my favourite places. This page is always under construction so there is no telling what may be changed. In case you have never seen me before, or its been a while, here I am. This was taken a couple of years ago. (Hint: I'm the one on the left).
Here are my two girls, Molly McGee, adopted 19 Oct 1998, laying on the bottom, who is named after one of my favourite characters from Fibber McGee and Molly. Sitting is Blanche Bickerson DuBois, who, literally, walked in the door on 4 July, 1999, liked what she saw and stayed. She's named Blanche Bickerson after the radio character because she likes to wake me in the middle of the night, and DuBois because she has had to depend on the kindness of strangers. She and Molly are now sisters and get along swell and are great playmates. If you love animals, check out pet of the day .
My name is Joe Mackey, I am 56, a native of Huntington, WV which sits on the banks of the beautiful Ohio River where Ohio, Kentucky and West Virginia meet, with a tri-state metro population of about 300,000. I have also lived in Colorado Springs and Trinidad, Colorado, as well as Norfolk, VA while in the USN on the USS Newport News CA 148 , a heavy cruiser, which with much sadness, was scrapped in 1993 after 26 years of faithful service, in peace and war.
I am interested in many things besides browsing the Web. I enjoy reading (history, biographies and non-fiction in general), research and writing. I am also interested in politics and current events.

Below are some local links for those interested in local/regional news, weather and sports.
Ch 3, NBC WSAZ (it went on the air in 1949), Ch 13, CBS WOWK (on the air since 1955) both have local news, sports and weather. The Herald-Dispatch is the local paper, HuntingtonNews.net which has stories of area interests, other WV interests on the net include: Jeff's WV page , Tri-State Electronic Village , EZ Net and PC Doctors (the best computer repair place anywhere!) Also check out what famous people call WV home in some way, either by birth or adoption.
I have held many jobs in my checkered career from delivering newspapers and working in a drug store while in high school, to selling used cars (please don't hold that against me), cab driver, working for a produce company for 15 years and as an early founder (1987), volunteer and later director (1993-96) and chief HIV/AIDS prevention educator for the Tri-State AIDS Task Force. I was the original co-chair (1994-96) for the Community Planning Group and served as secretary for CPG District II until 2002. I have worked as a temp (1996-the present) for Kelly Services (formerly "Kelly Girl"). The great thing about being a temp is I get to meet many interesting people and have a variety of assignments since I am registered for both clerical and light industrial work. If I have an assignment I don't care for I know it won't last all that long, in the grand scheme of things, though at the time it may seem unending. Of course not everyone is as lucky in assignments as I am. Check out some temp tales of terror. Now I work full time as a security officer with Securitas Security (which bought out Pinkerton Security in 2003). I began working for them part time in 1994 for the home football and basketball games of Marshall University though I attended West Virginia University , (journalism/English) which is Marshall's in-state rival. Thus I was educated at one and make money off the other. Sort of like playing both ends against the middle. Since January 2002 I have been at the Marshall parking office as, I was fondly called by many, "the ticket Nazi" since I cranked out so many citations (more than the other three officers combined) around campus. I love the job. Its a regular 8-4 Monday to Friday job and allows a lot of freedom. I don't have any one looking over my shoulder and I still manage to stay busy. On 23 February 2005 I became site supervisor and promoted to Lieutenant.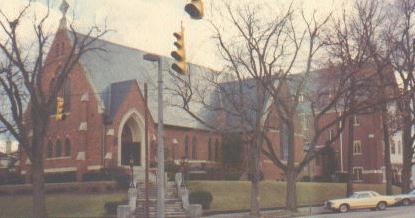 I am a member of Trinity Episcopal Church , founded in 1869, in the Diocese of WV . I served for four years on the vestry and several more on the worship and liturgy committee. You can also find out more information on the Episcopal church at its official site There is also a unofficial site that you may wish to check out. Episcopal Life is the national news magazine. You may want to read some historical texts or maybe Christian biographies or some humour . You can also read and/or download the daily office from the Book of Common Prayer.

I have been on the Net since August, 1994, starting on a text based Lynx system (remember that?). I started with a Commodore 64 in 1985 and around 1988 learned about a national bulletin board, Quantum-Link, which was Commodore dedicated. A friend gave me a 300 baud modem and I started getting connected with the world. "Q-Link", as we called it, eventually shut down and was replaced by something called AOL. (Wonder what ever happened to that?) In the early 1990's I learned of GEnie, which offered much more than Q-Link, such as the ability to download messages to read off line, which I thought was a vast improvement over the old reading/responding on-line. (It also lowered my bill and I am one to save a buck whenever possible.) In August, 1994 I was able to access the Net through Marshall University which offered free net access for non-profit organisations, such as TATF. For Christmas 1995 I bought my first "real" pc, a used 286. In late 1996 I got a 486 and moved up to a local ISP using Netscape Gold Personal Edition 3.0 and now use Netscape Communicator 7.2, which made this page possible. In early January, '06 I upgraded to a Pentium-III, 2.7 Ram, 1400 mhz with a 35 gig hard drive, W2K, a 52X CD and a NEC DVD burner I got in December. I replaced my original 75 mhz Compaq I bought used on Ebay several years ago for a newer IBM Think Pad, which is 333 mhz, PII, six gig, stereo and CD, none of which the Compaq had. And I paid less for this one than I did the lesser one, only $250! In June '01 I made the leap into the 21st Century going with a cable modem and currently on Adelphia.net. And speaking of speed, test your connection.


I am also on FIDO which I access through Doc's Place where I hang out in the Memories echo where I am am co-moderator. (BBS' are sort of a poor mans message board/newsgroup.) With ISPs popping up all over bbs' are falling by the wayside. Doc is trying to keep it alive and carries many echoes.

I am single and love it. I have lived in the same apartment since July, 1979. I am pretty much set in my ways and doubt I will change at this date. And in case anyone is interested, here's my street, Fashionable Fourth Ave. My building is the one in the middle with the balcony's, though I live in the back. And no, the street is not slanted, but my camera was when I took this.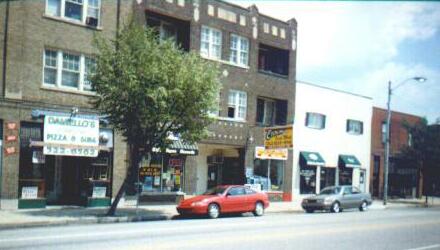 Interests

---
I love following links to unknown places. I will often start looking for one thing which leads to another and another and before I know it I am out of virtual string I have unwound to found my way home. This is something that has also been my downfall. Such as when I would be doing research and reading old newspapers on microfilm or magazines and get sidetracked from what I was intending to look for. So following links to unknown places is simply another way of doing this.

I am interested in a wide variety of things. Politically, I am a conservative Republican (with Libertarian leanings believing the government that governs least governs best, though I strongly disagree with the Libertarian drug policy) and am a dittohead and Rush listener since March, 1989. Not because I agree with him, but because he agrees with me. Another good call in/talk show is Glenn Beck which is lively morning mix of all sorts of news and views as well as Sean Hannity . I am able to listen to these and other shows on WVHU on my walkman as I make my rounds around campus.

The Media Research Center is good for finding the liberal bias in the news, which isn't all that difficult to do. They also offer a daily e-mail news update from the previous evening news shows. Town Hall is a good site to meet over like minded conservatives. I also visit Vote.Com everyday to make my voice heard on national issues.


I am also a fan of old-time radio. In my teens, having missed the golden age of radio, I wished some of the old shows had survived, believing all the shows had been done live and few, if any, had been preserved. Occasionally I would run across a record (remember those?) of a show or hear one on the radio. It wasn't until the 1980's I learned that many shows had been saved. On GEnie there was a OTR group and I started to learn more. I also learned there was a non-profit organisation that rented OTR tapes, SPERDVAC (Society to Preserve and Encourage Radio Drama, Variety and Comedy) based in California and staffed by volunteers. SPERDVAC has an extensive library of shows which I have used to add to my collection. I am mainly interested in comedy and mystery and drama: such shows as Jack Benny, The Whistler and Suspense. I listen on line with Real Audio. (Wonder what the performers on OTR would thought about this?) Below are some of my favourite places to visit at least once a week. (These are not in any particular order): FM&M , When Radio Was, Tom Heathwood, Radio Lovers, USA Yesterday, Rick, Your hosts choice, WITC has interviews with radio people, Misduke has real oldies from the early in the 20th Century to the '30s, and Chuck Shaden's Those Were The Days site with shows from the previous Saturday. So many places come and go so fast its hard to keep up with them. In addition Ivan Shreve has a nice blog, even though he spends way too much time sitting in front of that one-eyed monster called t--------n. (I didn't spell that out so as not to shock the more gentle reader with a vulgarity). I suggest joining the free Yahoo old radio club which will allow you a lot of club sites members have, as well as sharing otr in mp3. Another excellent source of obtaining shows is sharing via Steamload where members offer shows for others. The cost is low, for the amount of shows available. Check their pricing. You can check out Streamload offerings for the many show available from time to time. See something you like and simply request it from the sender and it arrives in your inbox for either downloading or streaming. Its also a good place to store your stuff. In the fall of '01 I finally began saving shows to CD rather than tape. I can get 100 shows on a CD (saving as a data file) rather than using 50 tapes. Lou Genco has a humongous OTR site with all sorts of information and Jerry has many logs to check show titles, dates, etc. One of the best log sites currently is Otter which has lots of logs, done by collectors. Huntington also has a radio museum that you can visit online. Maybe you want to listen to a radio show on a old set, or a reproduction? Check out eBay for sets that may suit you. There are also a couple of OTR e-mail groups available which are daily digests discussing shows, personalities, etc. Stop by the Old Time Radio Digest page and sign up today!

<>>

There is also a weekly otr chat from 8 p.m. to whenever (et) Thursday's on StarlinkIRC in the #oldradio room. Come join us! There is more information on Lou's site. You will a IRC chat program and I highly recommend mIRC, also info on how AOL users can join us. Some times stars from OTR stop by. You may find yourself chatting with well known persons from the days when OTR was new time radio, who are unfailing humble and modest. Maybe you want to check out what's on the radio or tv world-wide? Check out international radio/tv for something of interest.


---
Links of general interest:
Learn tips on car repair (or maybe not) from Click and Clack . Once your car is running again and you are driving around listen to Michael Feldman on Whadyaknow or the tall guy from Lake Wobegon.

I am also interested in current events. Check out: Washington Times , Washington Post , New York Times , New York Post . Or flip on Cspan to find out what's going on Capital Hill. Help make your views heard. Check out the Fox News page for late breaking news.

So you don't think I am completely humour impaired--

Wanna send a card to someone? There is Ynot which has a goodly selection with animation. For something a little more edgy, you might try rude cards which not your typical greeting card. Send a radio greeting.


Wanna win something big? Daily, weekly and monthly contests. Just want something free? Check out this place. You can also answer some survey questions and possibly win some money as well at Greenfield online.

Do you get tired of stories that everything you eat, drink or breathe is bad for you? Check out what's being debunked in junk science.

Tired of paying high prices for ink jet cartridges? Wanna save some money? Tell ya what I'm gonna do (opps, the used car salesman in me). Check out low ink jet prices for the most common types. Quit paying big money by re-filling it yourself. And are you tired of paying high retail prices of computer parts? Check out surplus direct for low prices on hardware items.

Ever wonder about that long lost classmate from school? Once you find that missing person see where they live and what is near them, so you can take them to a neighbourhood restaurant.

Ok, you found your long lost buddy or buddy-ette. How about a movie after dinner, but what's good? What's the current currency rate? How are you gonna get there? Maybe a nice classic car to drive around in. Can't afford a movie? Then save money and cook a nice meal at home , enjoy some cookies and read the script instead. Is that star dead or alive? Or maybe you want to see the final resting place of your favourite late star. Maybe you will put on some music and not understand the lyrics, this will help. Maybe you just want to have a TV Party and watch some movie flix or B movies on your pc. You may want to simply read a book. The Cabell County Public Library has a online card catalogue.

Have been plagued by spam warning of some terrible virus or other dire problem waiting to inflict you and your pc? Check out urban legends for the low down and help stop the insanity. Or just check out the usual urban legends. How about some sounds to spice up your pc? Maybe you want to join an e-list of like minded people. Are you superstitious? Find out the story behind them. One of my pet peeves are well intentioned people who forward virus and other warnings that are bogus. Before you forward a dire warning of impending doom to everyone, check out hoax busters and virus warnings to see if they are true.

Well, that should hold you for a while. Be sure to check back often and see what is new, added or deleted. Drop me a line and let me know what you think: good, bad or ugly. Also if you have a link you would like to have added to this page let me know. If you have trouble with any of these links, let me know asap so I can make the changes.

Last update: 28 January 2006